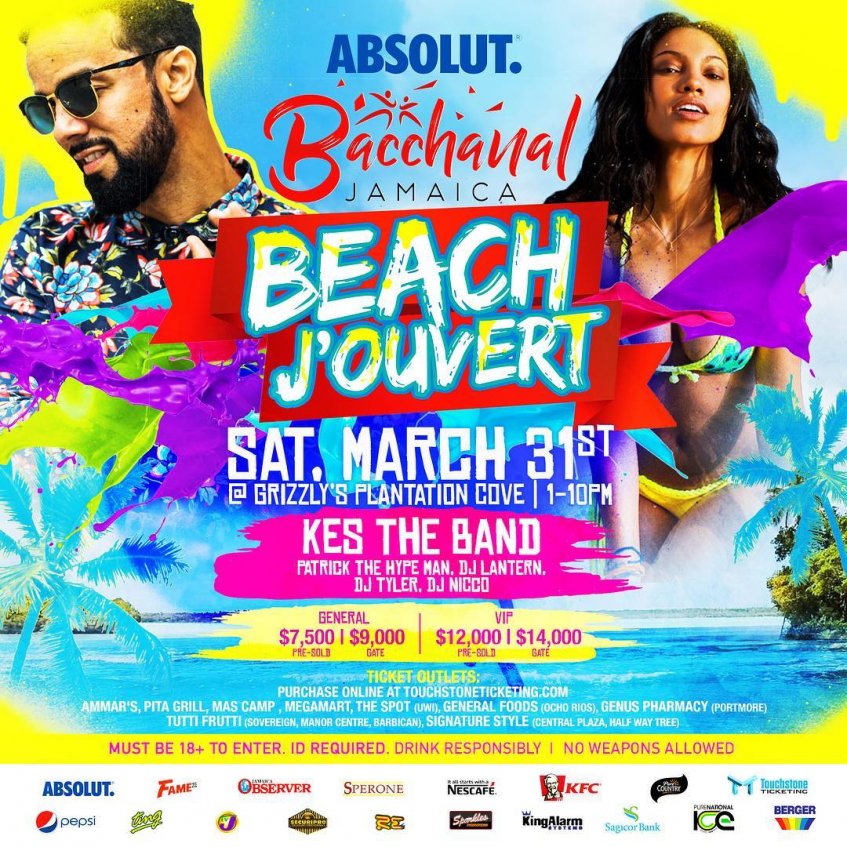 The Caribbean's largest Jouvert on the beach is happening this SATURDAY!!! @Bacchanalja @kesthebandofficial @thehypeman_pa @tylerchung_ @djnicco876 @djlanternmd cant wait to party all day with you.

Presold are on sale at all outlets including our new outlet Johncrows Tavern(Ocho Rios) and online at https://touchstoneticketing.com

Beach Jouvert prices
Presold: General - $7500 Vip - $12,000
Gate : General - $9000 Vip - $14000

Don't miss this one it's going to be EPIC!!!
LOCATION
Venue
Address
Location
Description
Video
Map
Grizzly's Plantation Cove
Richmond
Jamaica
Saint Ann
Ocho Rios
View Map
SCHEDULE
| Activity | Description | Venue | Age | Start Date | End Date | Video |
| --- | --- | --- | --- | --- | --- | --- |
Inventory Prices
Mar.29.2018 04:33PM - Mar.29.2018 04:33PM
| Name | Price | Type | Age | Activity | Availability(1 Tickets) |
| --- | --- | --- | --- | --- | --- |
| Beach J'ouvert | JMD0.00 | General Admmission | | All Activity | |
Mar31
Bacchanal Jamaica: Beach J'ouvert
March 31st ,2018
1:00 PM
Richmond, Jamaica, Saint Ann, Ocho Rios
© 2019 Jamaica Experiences All Rights Reserved