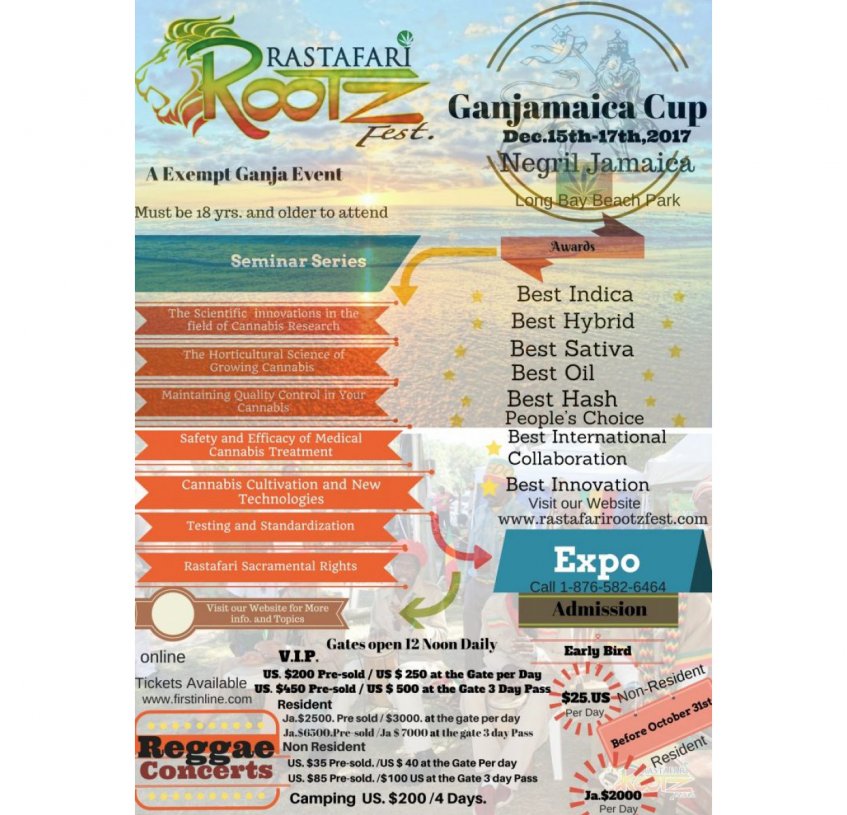 The three-day festival, consumer expo, trade show and competition will be hosted in Negril, one of Jamaica's most famous tourist resort towns and global ganja capital. An estimated 1,500 are expected for this event as well as exhibitors from the US and Canada. The event will also feature educational and information booths for Jamaican businesses and interested persons. Parish associations, organizations and government ministries will also participate including the Ministry of Industry, Investment & Commerce, Ministry of Tourism, Tourism Enhancement Fund and the Ministry of Science, Technology, Energy & Mining.
?
The Rastafari Rootzfest Ganjamaica Cup will judge top entries from growers across Jamaica by a panel of local and international experts. The Rastafari Rootzfest Ganjamaica Cup will quantify and qualify classic traditional Jamaican ganja strains destined to become commercially successful products with the further relaxation of Jamaica's cannabis laws.
The annual festival will provide a platform for the further development of Jamaica's cannabis industry and establish a path for Jamaican farmers to access opportunities under the law. The festival will include a Reggae music concert on the first two nights and climax with the Rastafari Rootzfest Ganjamaica Cup awards ceremony on the final day. Celebrating Jamaica's historical connection to ganja and the protection of Rastafari's sacramental rights under the law.

The Ganja Expo will include booths covering the commerce, culture, and cultivation of cannabis. Ganja Expo booths feature strategic organizations and cannabis related companies. The three day seminar series will include presentations from top speakers representing the government, organizations, investors and growers as well as Rastafari Rootzfest's international education partner Oaksterdam University.
LOCATION
Venue
Address
Location
Description
Video
Map
Long Bay Beach Park
Long Bay Beach Park, Negril ,Jamaica
Jamaica
Westmoreland
Savanna la Mar
View Map
SCHEDULE
| Activity | Description | Venue | Age | Start Date | End Date | Video |
| --- | --- | --- | --- | --- | --- | --- |
Inventory Prices
Aug.29.2017 09:50AM - Aug.29.2017 09:50AM
| Name | Price | Type | Age | Activity | Availability(1 Tickets) |
| --- | --- | --- | --- | --- | --- |
| RASTAFARI ROOTZFEST 2017 | USD4478.32 | General Admmission | | All Activity | |
Dec06
Rastafari Rootzfest Ganjamaica Cup 2017
December 06th ,2017
11:28 AM
Long Bay Beach Park, Negril ,Jamaica, Jamaica, Westmoreland, Savanna la Mar
USD 4478.32
© 2019 Jamaica Experiences All Rights Reserved