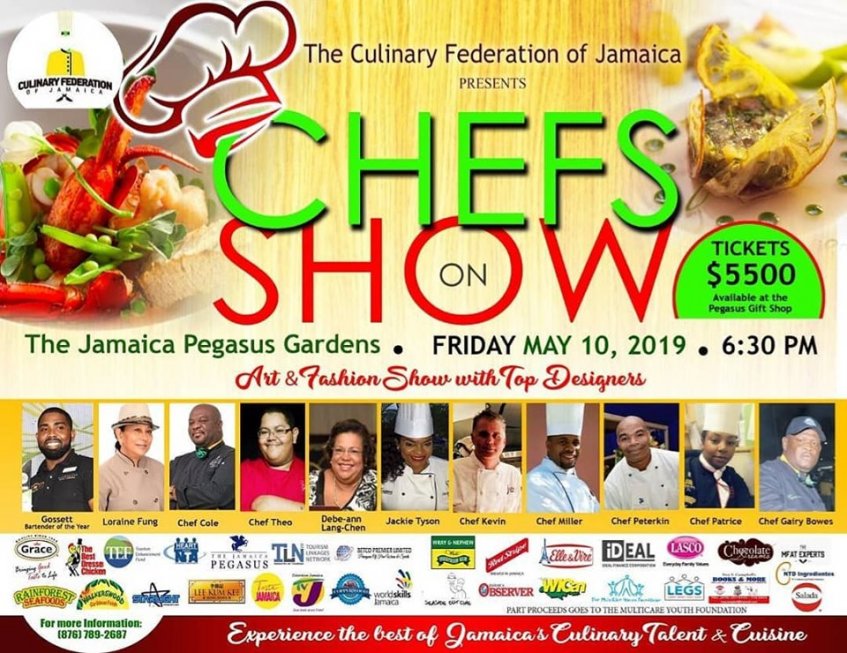 Come and support a good cause and enjoy great food!
Chefs on Show will showcase the best of Jamaica's Culinary Talent and Cuisine.

This tasting experience will be like no other. Unlimited Food, drinks and desserts included!

Support local talent! The Culinary Federation of Jamaica is an association formed to bring together and train talented chefs, sous chefs and pastry chefs from across the entire island.
LOCATION
Venue
Address
Location
Description
Video
Map
Jamaica Pegasus Hotel
81 Knutsford Blvd, Kingston 5
Jamaica
Kingston
Kingston
View Map
SCHEDULE
| Activity | Description | Venue | Age | Start Date | End Date | Video |
| --- | --- | --- | --- | --- | --- | --- |
Inventory Prices
May.10.2019 01:20PM - May.10.2019 01:20PM
| Name | Price | Type | Age | Activity | Availability(1 Tickets) |
| --- | --- | --- | --- | --- | --- |
| Chefs on Show | JMD4500.00 | General Admmission | | All Activity | |
May10
Chefs On Show
May 10th ,2019
6:30 PM
81 Knutsford Blvd, Kingston 5, Jamaica, Kingston, Kingston
JMD 4500.00
© 2019 Jamaica Experiences All Rights Reserved