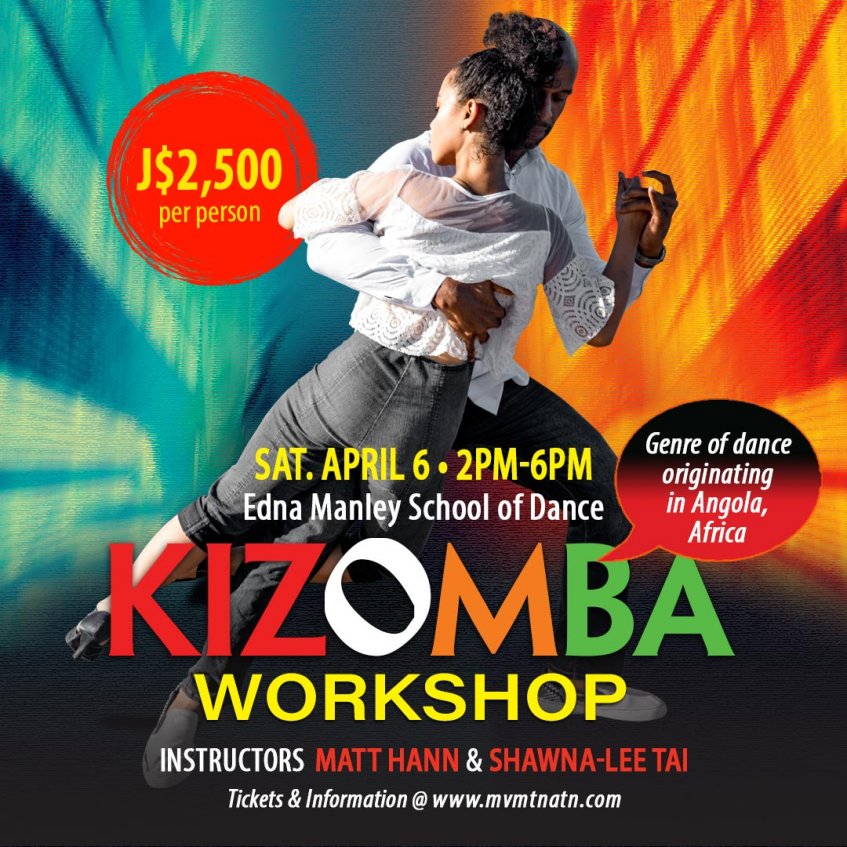 We invite you to join our Kizomba series. The Kizomba workshop is designed for both first-timers and more seasoned dancers. We'll teach the basics, a routine, then we'll show you how to use it all on the dancefloor.

Kizomba is a partner-dance originating in Angola, Africa. The rhythm and energy of the music feels very close to home here in the Caribbean. The music-style of Kizomba is known for having a slow, insistent, somewhat harsh yet sensuous rhythm as a result of electronic percussion. It is danced accompanied by a partner, very smoothly, slowly and sensuously, and with neither tightness nor rigidity. We're bringing that rhythm and energy to you with this one-day workshop.
Matt & Shawna-Lee look forward to working with you.
LOCATION
Venue
Address
Location
Description
Video
Map
Edna Manley College of Visual and Performing Arts
1 Arthur Wint Drive Kingston 5, St. Andrew Jamaica
Jamaica
Saint Andrews
Half-Way-Tree
View Map
SCHEDULE
| Activity | Description | Venue | Age | Start Date | End Date | Video |
| --- | --- | --- | --- | --- | --- | --- |
Inventory Prices
May.10.2019 12:00PM - May.10.2019 12:00PM
| Name | Price | Type | Age | Activity | Availability(1 Tickets) |
| --- | --- | --- | --- | --- | --- |
| Kizomba workshop | JMD2500.00 | General Admmission | | All Activity | |
May11
Kizomba workshop
May 11th ,2019
2:00 PM
1 Arthur Wint Drive Kingston 5, St. Andrew Jamaica, Jamaica, Saint Andrews, Half-Way-Tree
JMD 2500.00
© 2019 Jamaica Experiences All Rights Reserved